This is a Recipe for Sweet Coconut Modak for distribution of Ganapati Prasad during Ganesh Chaturthi. This variety of Ganesha Aarti Prasad distribution Modak does not need any kind of flour covering. The ingredients including Bundi is cooked with grated coconut and given a Modak shape. This type of Modak is suitable for distribution of Prasad to a large number Ganesha devotees attending the Ganapati Celebrations.
Preparation Time: 30 Minutes
Serves: 11 Modak
Ingredients
2 Cups Coconut (grated)
2 Bundi Ladoo's
1 Cup Milk
½ Cup Sugar
½ Tea spoon Cardamom Powder
2 Table spoon Dry Fruits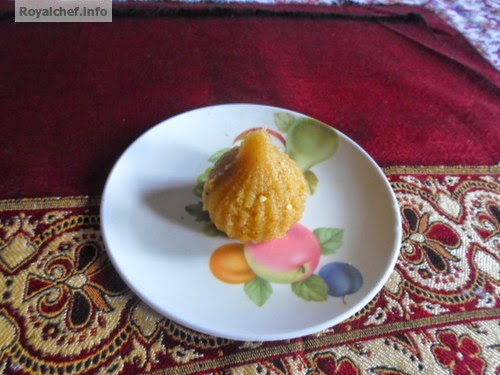 Ganapati Aarti Prasad Bundi Modak
Preparation
 Mix the grated Coconut, Milk and Sugar and then cook until it become dry.
Then add the Bundi Ladoo's, Cardamom Powder, Dry Fruits and mix it well and cook for 2-3 minutes and then prepare small Ladoo's or small Modak by using a Modak Mould.
The quantity can be proportionately increased or decreased according to the number of people estimated to attend the Ganapati Aarti or Puja.