This is a Recipe for preparing at home Masala Cauliflower chi Bhaji. A spicy Dry or Suki Cauliflower Vegetable dish prepared in the traditional and authentic Maharashtrian Style of Cooking.
Ingredients
2 Cups Florets of the Cauliflower
1 Medium size Onion (finely cut)
2 Table spoon Tomato (chopped)
1 Table spoon Ginger-Garlic paste
1 Tea spoon Red Chili powder
¼ Tea spoon Turmeric powder
½ Tea spoon Garam Masala
¼ Tea spoon Coriander-Cumin Seeds powder
2 Table spoon Coriander leaves (chopped)
Salt as per taste
For Tadka
½ Table spoon Oil
¼ Tea spoon Asafoetida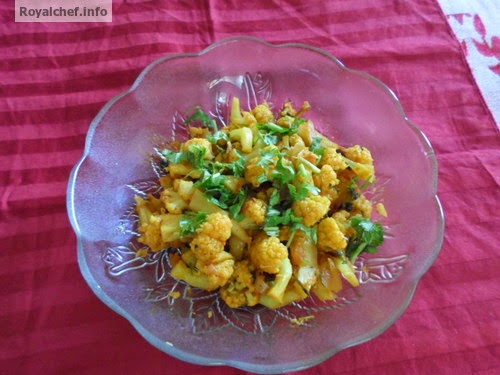 Preparation
Wash the Cauliflower florets  and then boil them in the water for 5 minutes on a slow flame.
Heat the Oil in a Kadhai and prepare a Tadka. Then add the Onion, Tomato, Ginger-Garlic paste and fry for  2-3 minutes on a slow flame. Then add  the Turmeric, Red Chili powder and Salt. Mix it well and then cover with a Stain less steel plate and add some Water over the plate and cook for 10-12 minutes on a slow flame.
Then add Garam Masala, Coriander-Cumin Seeds powder and Coriander leaves. Mix it well  and then cook for 2-3 minutes.
Serve hot with Chapatti.
The video in the Marathi language of this Maharashtrian Style Flower Chi Bhaji can be seen on our YouTube Channel – https://www.youtube.com/watch?v=3C2Kexd4eQE