This is a Recipe for making at home sweet and delicious Typical Indian Style Fruit and Chocolate Pan cake. This Pancake can be served as a stand-alone, snack, breakfast dish or in the tiffin boxes of school going children.
The Marathi language version of the same Pancake recipe and the preparation method can be seen here – Chocolate-Fruit Pancake
Preparation Time: 30 Minutes
Serves: 7 to 8 Pancakes
Ingredients
1 Cup Wheat flour
½ Cup Refined flour (Maida)
1 Cup Milk
2 Table spoon Sugar
1 Table spoon Coco powder
1 Tea spoon Baking powder
1 Egg (Beaten)
Fruits for Garnishing the Pancake
Dark compound chocolate (shredded)
Ghee for frying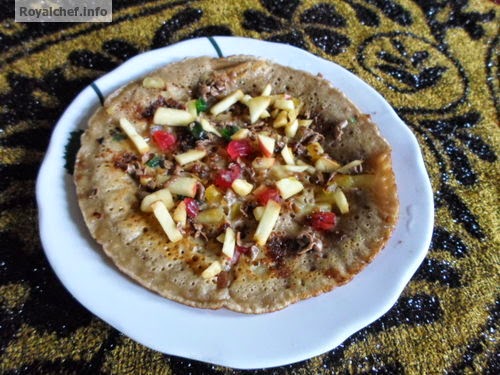 Fruit and Chocolate Pan cake
Preparation
Mix the Wheat flour, Refined flour, Sugar, Baking powder, Milk and Coco powder and blend the mixture. The batter is ready for the Pan cakes.
Heat the frying pan and spread over a tea spoon of the Ghee and then spread over ¼ cup of batter on the frying pan and then spread a spoon of  the Ghee evenly  across the pan. Cover with the lid for 2-3 minutes. Remove the lid and then turn the Pan cake and cook for 2 minutes.
While serving garnishing with Fresh fruits and shred Chocolate.
Serve hot.