This is a most simple Recipe for making at home tasty Khari Batata Puri or Salted Potato Puri, a delicious and crispy snack dish for breakfast or in the tiffin boxes of school going children.
This is a Salty Puri, which is prepared using a freshly prepared Potato Stuffing.
Preparation Time: 45 Minutes
Serves: 22 Salted Potato Puries
Ingredients
4 Potatoes (boiled, pealed and mashed)
1 Medium size Onion (grated)
10 Garlic Petals (chopped)
2-3 Green Chilies (chopped)
2 Table Spoon Coriander (chopped)
Salt as per taste
2 Cups Wheat flour
Oil for frying the Puris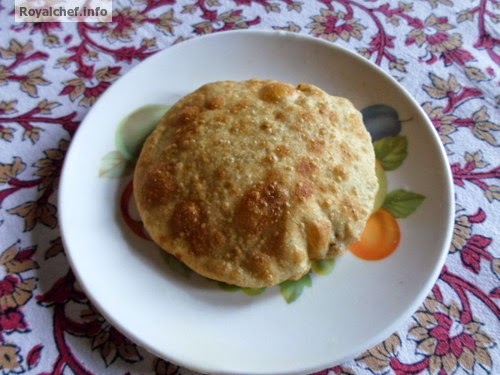 Salted Potato Puris
Preparation
Mix the Wheat flour, Salt and Water and then prepare a Dough and prepare small size balls from the Dough.
Prepare a mixture with the mashed Potato, Onion, Garlic, Green Chilies, Coriander and Salt.
Roll the small Puris and fill 1 table spoon of the mixture, inside the Puris and then close them and roll again.
Heat the Oil in a Kadhai and deep fry the Puris till color changes in to light brown.
Or heat a frying pan and fry the Puris  using the Ghee.