This is a simple to implement step-by-step Recipe for making at home sweet and delicious Gulkand – Sweet Betel Leaf  Kheer. This is an authentic and rare Maharashtrian Kheer preparation with Rose Petal Jam and Sweet Betal leaves as the main ingredients.
Delicious Gulkand – Sweet Betel Leaf Kheer Preparation Time: 40 Minutes
Serves: 4 Persons
Ingredients
500 Ml Milk
2 Table spoon Sugar
½ Cup Rice (cooked)
1 Sweet Betel Leaf
1 ½ Table spoon Gulkand (Rose Petal Jam)
Dry Fruits for Garnishing
4-5 Saffron sticks
1 Tea spoon Cardamom powder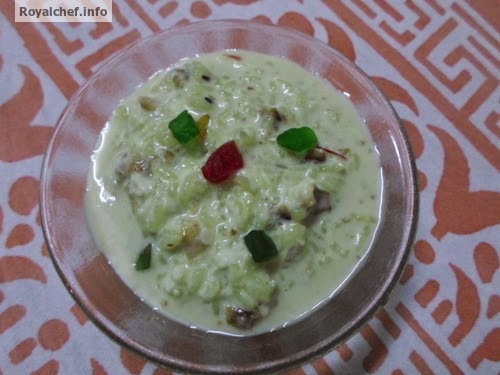 Delicious Gulkand Sweet Betel Leaf Kheer
Preparation
Boil the Milk on a slow flame and then add the cooked Rice.
Mix it well and cook for 5 minutes. Add the Sugar, Cardamom Powder, Saffron and boil for 5 minutes on a slow flame. Then keep it for cooling for 10 minutes.
Grind the Pan and Gulkand and prepare a thick paste.
Then add it to the Kheer.
Mix it well.
Garnish with Dry Fruits.