This is a Recipe for making at home crispy and delicious Pasta Cutlet. This cutlet is prepared using pasta cooked in a freshly prepared white sauce and then deep-fried to get that crispy taste.
The Pasta Cutlet is a stand-alone snack or starters snack, which is also suitable as an add-on to the main course meals.
Preparation Time: 60 Minutes
Serves: 12 Cutlets
Ingredients
2 Cup Pasta (cooked)
1 Onion (finely cut)2 Cheese Cube (shredded)
¼ Cup Red, Green and Yellow Capsicum (chopped)
For the White Sauce
2 Table spoon Butter
2 Table spoon Refined Flour (maida)
1 Cup Milk (cold)
1 Tea spoon Black Pepper Powder
2  Cloves Powder
Salt to taste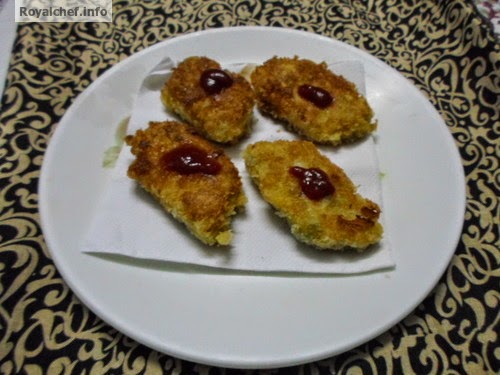 Crispy Pasta Cutlet
For Covering
¼ Cup Refined Flour
1 Egg (beaten)
3 Bread Slices (crumbs)
Oil for Frying the Cutlets
Preparation
Cook the Pasta and keep it aside.
For the White Sauce:- Melt the Butter and then add the Refined Flour and fry for 2-3 minutes on a slow flame.  Then add the cold Milk slowly and mix it well and Cook for 4-5 minutes on a slow flame. Then add the Onion and Capsicum and cook for 5 minutes on a slow flame. Then add salt, Black Pepper and Cloves. Mix it well and keep for cooling.
Then add cooked Pasta, shredded Cheese and then mix it well and pour in to a plate and roll it in the plate. Then keep the plate in to the Refrigerator for one and half hours.
Remove the plate from the Refrigerator and cut the Pasta mixture in to rectangular shaped pieces.
For the Covering:-  There are three covering layers – Take  ¼ Cup  Refined Flour  in a plate.  Beat an Egg in a bowl. Bread Crumbs.
Take one by one the cut pieces of Pasta and then roll in to the Refined Flour then dip in the  Beaten Eggs mixture and lastly roll in the Bread Crumbs.
Heat the Oil in a Kadhai and deep fry the Pieces till color changes in to Light brown.
Serve hot  with Tomato Sauce.