This is a Recipe for preparing at home rich and spicy Dhaba and Restaurant Style Mushroom in Green Masala. This is a main course Vegetable preparation, suitable for most parties.
The Marathi language version of the same recipe can be seen here – Hara Bhara Mushroom Masala
Preparation Time: 45 Minutes
Serves: 4 Persons
Ingredients
100 Grams Mushroom
1 Big size Onion (chopped)
1 Tea spoon Red Chili Powder
¼ Tea spoon Turmeric Powder
1 Tea spoon Garam Masala
2 Kokam
Salt as taste
For the Green Masala (grind)
1 Cup Coriander (chopped)
8-10 Garlic Petals
1" Ginger Piece
2 Green Chilies
1 Tea spoon Anni Seeds (Badi Saunf)
½ Tea spoon Caraway Seeds (shah jeera)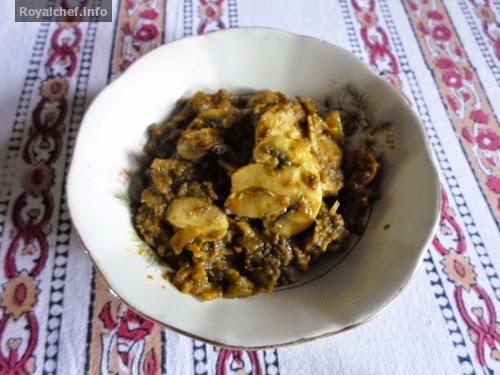 For the Tadka
½ Table spoon Oil
¼ Tea spoon Asafoetida
Preparation
Clean the Mushroom and cut in slices. Grind the Green Masala.
Heat the Oil in a Kadhai and then add Asafoetida, Onion and fry for 2-3 minutes and then add grounded Green Masala and fry till it become dry.
Then add Red Chili Powder, Turmeric Powder, Garam Masala, Salt, Mushroom Slices and half cup Water and mix it well and cover with a plate and cook for 5 minutes on a slow flame. Then add Kokam.
Serve hot with the Rice.