This is a Recipe for preparing at home delicious Suran Potato Kababs. This is a veg Kabab, making the use of Yam and Potatoes, which is called in Marathi as Surnache Kabab.
The Suran Kabab can be an excellent crispy side dish to compliment the main course or even a wholesome filling snack.
Preparation Time- 45 Minutes
Serves – 8-10 Persons
Ingredients
250 Gram Yam (Suran)
500 Gram Potatoes (boil, peal and mash)
2 Table spoon Green Chili and Ginger paste
3 Bread slices (crumbs)
1 Table spoon fried Channa Dal powder
1 Tea spoon Lemon Juice
¼ Cup  Coriander (chopped)
Salt to taste
Oil for Kabab deep frying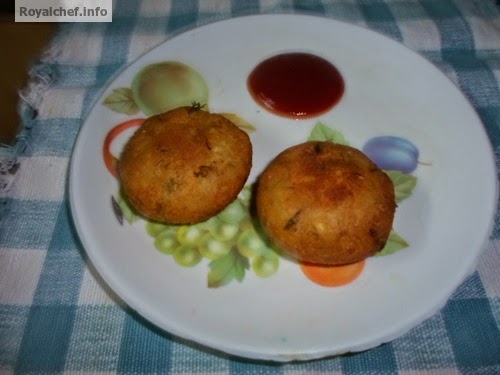 Preparation
Boil Yam and Potatoes and then peal and mash them. And then add Ginger-green Chili paste, bread crumbs, fried Channa Dal powder, Lemon Juice, Coriander and salt. Mix it well and prepare a Dough. Prepare small balls from the Dough and press them in the middle.
Heat the Oil in a Kadhai and then deep fry the Kababs till  color change in to brown or crispy.
Serve hot with Coconut Chutney or Tomato Sauce.