This is another simple and easy to follow recipe for making at home the famous Maharashtrian Diwali Faral Sweet dish of God Naralachi Vadi-Barfi or Sweet Coconut Vadi-Barfi.
The God Naralachi Vadi is a speciality Maharashtrian Mithai, which is an integral part and parcel of the annual Diwali Faral or for the festival of Narali Purnima- Raksha Bandhan.
Coconut Vadi Preparation Time: 60 Minutes
Serves: About 35 Coconut Vadis
Ingredients
1 Big Size Coconut (shred)
1 ½ Cup Sugar
½ Cup Milk
1 Tea spoon Cardamom powder
1 Table spoon Sugar (grind)
1 Tea spoon Ghee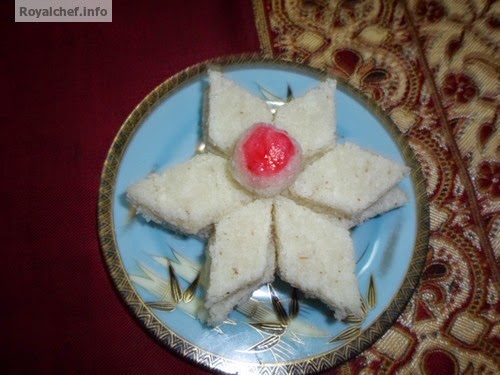 Preparation
In a  Kadai add the shredded Coconut, Milk and Sugar and cook till mixture becomes thick.
Apply Ghee on a Stain less steel plate and keep it aside.
When the mixture thickens, add the grounded Sugar and mix it well and then keep on stirring for 2-3 minutes on a slow flame,  then add the Cardamom powder and again mix it well.
Remove mixture from the kadai and roll it on the stain less steel plate.
When the mixture cools down,  cut the Vadis into nice diamond like shapes as shown in the image.