This is a Recipe for preparing typical Mughlai Restaurant Style Lucknowi Chicken Biryani, one of the most famous and popular of the Biryani dishes in India. I have made it easy by giving the preparation method in a simple to follow step by step manner.

Ingredients
For Rice
2 Cups Basmati Rice
7-8 Black Pepper Corns
3-4 Cloves
2-3 Cinnamon pieces (1/2")
2-3 Bay Leaf
4 Cardamom (Green)
Salt to taste
For Marination
500 Gram Chicken Pieces
2 Table spoon Refined flour (Maida)
2 Table spoon Corn flour
1 Table spoon Ginger-Garlic pate
3-4 Drops Red food Colour
Salt to Taste
½ Cup Oil for Chicken frying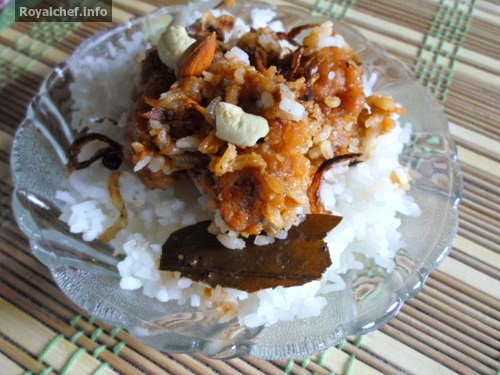 For Masala (Grind)
½ Cup Tomato Pure
1 Table spoon Ginger-Garlic paste
1 Tea spoon Red Chili powder
1 Tea spoon Garam Masala powder
½ Tea spoon Coriander Seeds powder
½ Tea spoon Cummin seeds powder
3 Table spoon Cashew nuts paste
2 Table spoon Brown Onion Paste (fry Onion till brown and then prepare paste)
1 Table spoon Ghee (brushing for the Vessel)
2 Big Onion (fine cut and deep fry till brown)
Preparation
Grind the Masala as per the Ingredients given.
Wash the Chicken pieces and then add Refined flour, Corn flour, Ginger-Garlic paste, Red Colour and Salt. Mix it well and keep it aside for 30 minutes. After that heat the Oil in a Kadhai and deep fry Chicken pieces till colour changes in to light brown and keep it aside.
While cooking Rice take seven cups of Water in the Vessel then add Rice, Cinnamon, Cardamom, Clove, Black Pepper, Bay Leaf and Salt. Cook the Rice for 10-12 minutes. And then drain the  excess Water and pour cold water over the cooked Rice and keep it aside.
Heat the one table spoon Oil in a Kadhai and then fry the Masala for 2-3 minutes, add  one cup of the Water and fried Chicken. Cook for 5-7 minutes on a slow flame.
In a big size Vessel first  keep cooked Chicken and then half portion of cooked Rice then Chicken and again remaining cooked Rice. Cover with the lid and cook for 8-10 minutes on a slow flame. While cooking keep Iron Tawa under the Vessel.
While serving garnish with fried Onion,fried Cashew nuts and Almonds.