This is a simple Recipe for preparing  at home Thai Restaurant Style Baby Corn Tempura. This is a Thai speciality dish, preparation is uncomplicated, once you have all the ingredients in place. The dish is delicious, crispy and crunchy.
The Marathi language recipe of the same Thai Dish can be seen here – Thai Baby Corn Tempura
Preparation Time: 30 Minutes
Serves: 12 Pieces of Baby Corn Tempura
Ingredients
1 Cup Baby Corn
1 Cup Tempura flour
½ Cup Cold water for paste
1 Tea spoon Broth Powder
½ Tea spoon White pepper powder
1 Tea spoon Salt
1 Tea Spoon Ginger-Garlic paste
1 Tea spoon Sesame Oil
1 Table spoon white vinegar
Oil for frying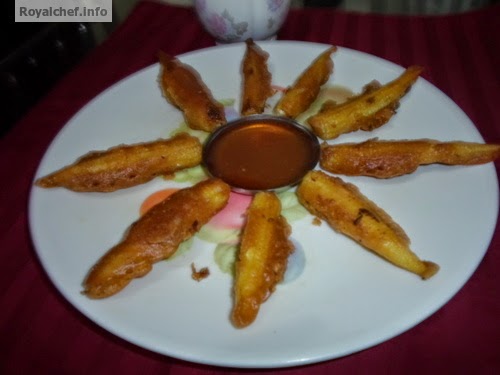 Preparation
Mix all the Ingredients and keep aside for 30 minutes.
Heat the Oil in a Kadhai and deep fry Baby Corn till crispy.
Serve with Thai Chili Sauce.