This is a Recipe for preparing at home tasty Thai Style Fried Tofu Paneer Sticks. This is a Starter Thai Recipe, can be used as a party and cocktail snack. This Fried Taohoo tastes great as it is prepared using a variety Thai Spices, which makes is crisp and spicy.
This Thai speciality dish is prepared Tofu or Soya Paneer, which is a Paneer or Cottage Cheese prepared from Soya Beans Milk. Tofu is a rich source of Proteins and Vitamins as is considered to be a healthy food.
The Marathi language version of the same recipe can be seen here – Fried Tofu-Soysbean Paneer Sticks
Preparation Time- 35 Minutes
Serves- 2 Persons
Ingredients
1 Cup Taohoo or Tofu
¼ Cup Corn flour
2 Table spoon Onion Paste
1 Tea spoon Ginger-Garlic paste
1 Tea Spoon Shezwan Pepper
1 Tea spoon Sosa Sauce
1 Tea spoon Red Dried Chili powder
1 Tea spoon White pepper powder
1 Table spoon Broth powder
1 Tea spoon Sesame Oil
¼ Cup Spring Onion (chopped)
Salt to taste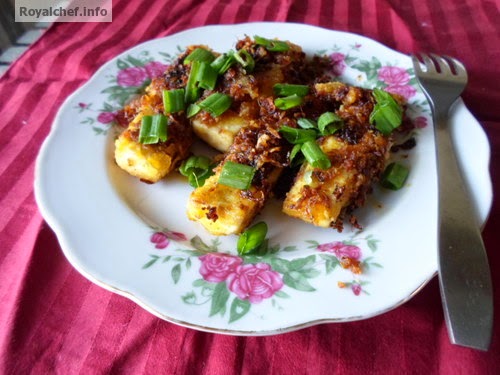 Preparation
Take the Corn flour, Broth powder, Salt, Pepper and water and prepare a paste. Then add Taohoo and keep it to marinate for 15-20 minutes.
Heat the Oil in a frying pan and then add the Shezwan Pepper, Ginger-Garlic paste, Red Chili paste and fry for 2 minutes on a slow flame. Then add Taohoo and fry until colour changes in to light brown.
Then add Soya sauce, Sesame Oil, Spring Onion, White Pepper.