This is a Recipe for preparing at home sweet and delicious Mithai Shop Style Kashmiri Paneer Khubani (Khubani means Apricot in English or Jardalu in Marathi).
This is a authentic and traditional Kashmiri speciality sweet dish, which is prepared using Paneer, Potatoes and Apricot as the main ingredients.
The recipe for making Kashmiri Paneer Khubani has been simplified and put in a step-by-step manner to make the preparation of this Mithai at home as simple and easy as possible.
Paneer Khubani Preparation Time: 60 Minutes
Serves: 15 Nos
Ingredients
250 Gram Paneer (grate)
3 Medium size Potato (boil and mash)
½ Cup Araroot Powder
½ Tea spoon Cardamom powder
A pinch of Orange color
5-6 Apricot (Jardalu)
A drop of Kewara Esance
15 Cashew nuts pieces
Ghee for Frying the Paneer Khubani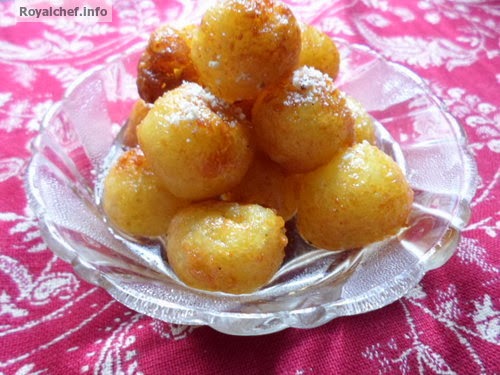 Preparation
Wash the Jardalu and boil it in ¼ ltr Water.
Then remove the Jardalu from the Water and add Sugar, food Color, Essence and Cardamom powder for making the Syrup.
Prepare a slightly sticky Syrup.
Mix the Paneer, Potato and Araroot Powder and prepare a Dough.
After that prepare small lemon size balls from the Dough.
Then keep one piece each of Jardalu and Cashew nut inside the Paneer-Potato balls and cover it nicely.
Heat Ghee in the Kadhai and deep fry the Paneer balls until color changes in to light brown.
Then put the fried balls in the Sugar Syrup and keep it aside for 10-15 minutes.