This is a Recipe for preparing at home delicious Dhaba or Hotel Style Mint (Pudina) Chicken. This Indian Chicken Dish combines the flavour of Mint and Spicy Masala.
Preparation Time- 45 Minutes
Serves – 4 persons
Ingredients
500 Grams Chicken
2 Big size Onion (chopped)
2 Big size Tomato (chopped)
1 ½ Table spoon Ginger-Garlic Paste
5 Slit Green Chilies
½ Tablespoon Red Chili powder
1 Teaspoon Turmeric
½ Tablespoon Coriander (Dhania) powder
1 Cup Pudina (chopped)
2 Tablespoon Oil
1 Tablespoon Ghee
Salt to taste
Grounded paste
10 Cashew nuts
1 Tablespoon Kuskus
½ Cup Coconut (shred)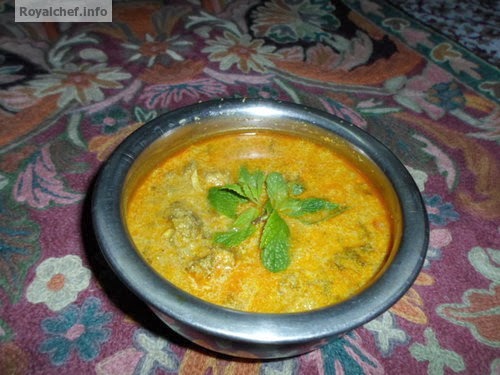 Preparation
Heat Oil in the Kadhai and fry the Onion and Green Chilies for 4-5 minutes on a slow flame. Then add the Tomatoes, Ginger-Garlic paste, Red Chili powder, Turmeric, Chicken and cover with a lid and cook for 5 minutes and then add 1 cup of Water and then cook for 10-12 minutes on a slow flame.
After that add the Coriander powder, grounded paste, Salt, Pudina and ½ cup of Water, Ghee, mix it well, and then cook for 5-7 minutes.
Serve hot with Parathas.