This is a Recipe for making at home typical Maharashtrian Style Sheera. This is a very famous and popular sweet dish dish in Maharashtra and all over India. Normally taken for breakfast and also offered as a Prasad on auspicious and religious occasions.
Preparation Time: 30 Minutes
Serves: 4 Persons
Ingredients
2 Cups Thick Rava [sooji/semolina]
1 Cup Sugar
3 Cups Milk (hot)
½ Cup Ghee
4-5 Almonds (cut in small pieces)
10-15 Kismis [Raisins]
4-5 sticks of Kesar [Saffron]
1 Banana (cut in small Pieces)
5 pieces Green Elachai [Green Cardamom grounded]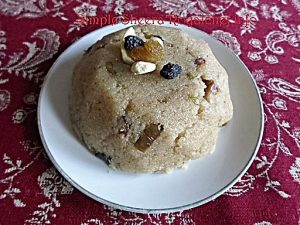 Preparation
Heat the Ghee in frying pan.
Than add Rava & fry till color change in to pink on a slow sim.
Add Banana & fry for 5 minutes.
After that add hot Milk and mix it nicely and cook for 5 minutes on slow sim and cover the frying pan with lid.
Then add Sugar, Almond, Kismis, Saffron, Elachai and cook for 5 minutes on slow sim.
Serve hot.