This is a easy to follow step-by-step recipe for preparing at home delicious Fast Food or Dhaba Style crisp and tasty Punjabi Chole Bhature, which is a very popular Fast Food dish all over India.
The Marathi language version of this popular and famous Indian snack recipe and its preparation method can be seen here – Typical Restaurant Style Chole Bhature
Preparation Time: 45 Minutes
Serves: 4 Persons
Ingredients
¼ Kg Kabuli Chana
1 Big Onion (Cut in small pieces)
1 Big Tomato
½ Tea Spoon Turmeric
1 Tea Spoon Chole Masala
2 Pinch of cooking Soda
Tamarind (Soak in warm Water)
2 Table spoon Oil
Salt
Masala
1 Table spoon Oil
1 Onion (cut in big pieces)
½ Cup Coconut
7-8 petal of Garlic
1 Small Piece of Ginger
1 ½ Tea spoon Red Chili Powder
Heat the oil in frying pan add onion, Ginger & Garlic fry till colour changes to brown, add coconut & Red Chili Powder fry for 3-4 minutes after that grind.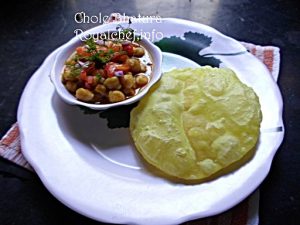 Preparation
At night soak the Chana add ¼ tea spoon Salt. Next day morning cook the Chole with 2 pinch of cooking soda in pressure cooker till you get about 4 to 5 whistles.
Heat the oil in frying pan add onion & fry the onion till colour change to red.
Add Turmeric, Salt, Chole, 2 table spoon Tamarind juice & Chole masala & the coconut masala. Cook for10-15 minutes, while serving dress with Coriander, Tomato & Onion.
Bhature
3 Cup Flour (Maida)
2 Table Spoon Hot Oil
¼ Tea Spoon Turmeric
1 Table Spoon Curd
Salt
Warm Water
Preparation
Take Flour add hot oil, Salt & Turmeric, mix it nicely, add warm water and prepare dough. Keep aside for 5 hours and make big size puri & dip fry and serve with Chole.