This is a Recipe for making at home Ganpati Bappa Khirapat Panchkhadya for the Ganesh Chaturthi festival. Pancha Khadya is a Prasad that is distributed to devotees after the Aarti of Shri Ganesha, it literally means a sweet Prasad containing 5 ingredients beginning with "K" – Khismis or Raisins, Kharik or Dry Dates, Khaskas or Poppy Seeds, Khobra or Dry Shredded Coconut and Khadisakhar or Rock Sugar.
These 5 ingredients are considered a must and apart from these 5 ingredients some other ingredients can be added to the Panchkhadya to make it even more tastier.
Preparation Time: 30 Minutes
Serves: 200 Grams
Ingredients:
1 Medium Size Katori Dry Coconut (shredded)
½ Tablespoon Poppy Seeds (slightly roasted and roughly powdered)
1 Tablespoon Raisins
¼ Katori Dry Dates (roughly powdered)
1 Tablespoon Rock Sugar
¼ Katori Sugar Powder
1 Katori Wheat Flour Atta
1 Tablespoon Ghee
1 Tea spoon Cardamom Powder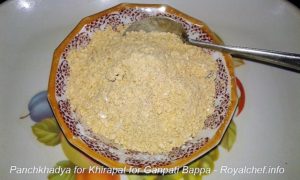 Preparation: Heat the Kadai and dry roast the shredded Dry Coconut on a slow flame.
Roast the roughly powdered Poppy Seeds.
Then, heat the Ghee in a Kadai and roast the Wheat Flour Atta on a slow flame until the color changes into light brown.
In a Medium size bowl add the roasted Dry Coconut, Poppy Seeds, Dry Dates, Rock Sugar, Powdered Sugar and mix it well.
Then, add the Raisins, Wheat Flour Atta, Cardamom Powder and mix well.
The Panchakhadya Khirapat is ready.
The Marathi language recipe of this Prasad can be seen here – Panchkhadya for Ganpati Festival
The video in Marathi of the same recipe can be seen here – Khirapat Panchkhadya for Prasad After Ganpati Aarti