This is a Recipe for making at home sweet and delicious Fruit Juice Stall or Ice-cream Parlor Style Rose Mastani a most famous and popular Milkshake, which originated in the city of Pune.
This tasty Milkshake is prepared using Red Rose Syrup, Vanilla Ice Cream and dry fruits.
The Marathi language version of this recipe can be seen here – Authentic Red Rose Mastani Milkshake
Preparation Time: 10 Minutes
Chilling Time: 2 Hours
Serves: 2 Persons
Ingredients
2 Cups Milk
2 Tablespoon Red Rose Syrup
1 Tablespoon Sabja Seeds (Basil Seeds)
2 Scoops Vanilla Ice Cream or Rose Ice Cream
For Garnishing
1 Tablespoon Dry Fruits (crushed)
2 Tablespoon Rose Syrup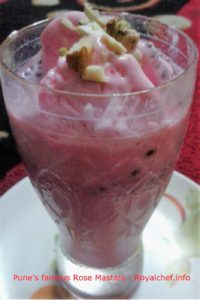 Preparation
First soak the Sabja Seeds in ¼ cup of Water for about 10-15 minutes.
In a Juicer add Milk and Red Rose Syrup and blend 3-4 times.
Take two decorative glasses and first add 1 tablespoon Rose Syrup and then add Milk, then add some soaked Sabja Seeds then again add Milk and then add the Ice Cubes and then the Ice Cream and Garnish with Dry fruits. Prepare both the glasses in the same manner.
Keep the glasses in the refrigerator for 2 hours for cooling.
Serve the Rose Mastani chilled.
For making the Vanilla Ice Cream refer the Recipe – How to make Vanilla Ice Cream at Home
While preparing Ice Cream you can add 1 tablespoon Rose syrup instead of Vanilla Essence.