This is a Recipe for making at home spicy and delicious Maharashtrian Style Mackerel or Bangda Fish Cutlets. This is great main course or starters snack.
This Bangda Cutlet recipe makes the use of traditional Konkani Spices to give it that added spicy flavor.
The Marathi language version of this recipe can be seen here- Spicy Bangda Cutlets
Preparation Time: 45 Minutes
Serves: 15 Nos
Ingredients
2 Bangda Fish
¼ Teaspoon Turmeric Powder
4 Medium size Potatoes (boiled)
1 Medium size Onion (chopped)
15-20 Garlic Petals
1" Ginger
2-3 Green Chilies
½ Cup Mint Leaves (chopped)
¼ Cup Coriander Leaves (chopped)
1 Teaspoon Cinnamon Powder
1 Teaspoon Lemon Juice
Salt as per taste
1 Egg
2-3 Toasts (powdered)
Oil for shallow frying the Cutlets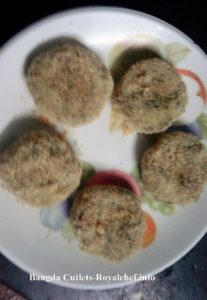 Preparation
First Clean and wash the Fish and apply ¼ Teaspoon Salt and Turmeric Powder. Chop the Onion, Ginger-Garlic-Green Chilies, Coriander and Mint Leaves. Boil the Potatoes, remove the skin and mash them.
Heat the pan and add ¼ teaspoon Oil and place the Fish inside the pan, cook the fish from both the sides for 8-10 minutes on a slow flame. Remove the Fish from the flame and keep them aside for cooling then remove the bones from the Fish.
Heat one tablespoon Oil in a Kadai and add the Onion, Ginger-Garlic-Green Chilies and saute for 2-3 minutes on a slow flame. Then add the Fish, mashed Potatoes, Salt, Lemon Juice, Coriander Leaves, Mint Leaves and mix it well.
Then add the beaten Egg, Cinnamon Powder and mix it well. Then keep it aside for cooling. After cooling the mixture prepare small equal balls from a mixture. Prepare Toast Powder and roll the Fish Cutlets into it and keep them aside.
Heat a nonstick pan and place the Cutlets by adding some Oil from the sides, and shallow fry the Cutlets from the both sides until they become crispy.
Serve the Fish Cutlets with Tomato Sauce.