This is a Recipe for making at home soft, sweet and delicious Mithai Shop Style Milk Powder Gulab Jamun. This recipe uses Milk Powder as the main ingredient, instead of Khoya or Ready-made Gulab Jamun Mix.
Ingredients
For the Gulab Jamun
2 Cups Milk Powder
3 Tablespoon Refined Flour (Maida)
1 Teaspoon Baking Powder
A Pinch Soda-by-Carb
5-6 Green Cardamom
A Tablespoon Ghee
½ Cup Curd
For the Sugar Syrup
2 Cups Sugar
1 Cup Water
Ghee for frying the Gulab Jamun
Raisins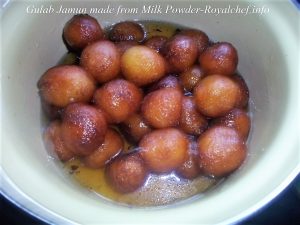 Preparation
For the Gulab Jamun: Mix the Milk Powder, Maida, Baking Powder, Soda-by-Carb, 2-3 Green Cardamom Powder, Ghee, Curd and prepare a Dough.
Prepare 24-25 small balls from the Dough. While preparing balls insert a Raisins.
Mix the Sugar and Water in a Vessel and keep it on a slow flame for preparing the Sugar Syrup. Add the Cardamom Powder and mix it well.
Heat the Ghee in a Kadai and deep fry the balls until the color changes into light brown. After frying the Gulab Jamun, put them into the warm Sugar Syrup. Deep fry all Gulab Jamun in the same procedure and put them into the Sugar Syrup. Then keep the Gulab Jamun Vessel on a slow flame for 5 minutes.
Serve after 2-3 hours.