This is a Recipe for making at home crispy Methi Paneer Rolls or Fenugreek Cottage Cheese Rolls. This healthy and nutritious dish is particularly helpful in making children eat Methi, which they normally avoid, it can also be useful as a crispy and crunchy tiffin-box snack.
The Marathi language version of this Methi Roll recipe can be seen here – Healthy and Nutritious Methi Rolls
Preparation Time: 60 Minutes
Serves: 8 Nos
Ingredients
For the Covering:
2 Cups Wheat Flour
1 Tablespoon Besan [Gram Flour]
½ Cup Methi Leaves (chopped)
1 Tablespoon Ginger-Garlic-Green Chili Paste
1 Tablespoon Oil
1 Teaspoon Red Chili Powder
¼ Teaspoon Turmeric Powder
¼ Teaspoon Asafoetida
Salt as per taste
For the Stuffing:
200 Gram Paneer (shredded)
1 Tablespoon Oil
1 Medium size Onion
1 Teaspoon Cumin Seeds
½ Teaspoon Methi Seeds [Fenugreek Seeds]
2 Green Chilies (chopped)
1 Teaspoon Ginger (chopped)
1 Teaspoon Garlic (chopped)
¼ Cup Methi Leaves [Fenugreek Leaves]
Salt as per taste
Oil for frying the Paratha
2 Cheese Cubes (shredded)
1 Teaspoon Red Chili Powder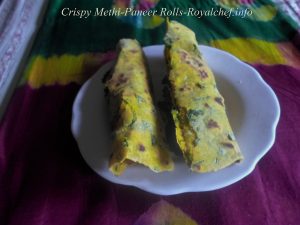 Preparation
Wash and chop the Methi Leaves. Finely chop the Onion.
For the Covering: Mix the Wheat Flour, Besan, Ginger-Garlic-Green Chili Paste, chopped Methi Leaves, Red Chili Powder, Turmeric Powder, Asafoetida, hot Oil, Salt and prepare a Dough.
For the Stuffing: Heat the Oil in a Kadai and add the Cumin Seeds, Methi Seeds, Onion, Ginger-Garlic, Green Chili, Salt and saute for two minutes on a slow flame. Then add Methi Leaves, Paneer (shredded) and mix it well.
For the Roll: Prepare 8 equal balls from the Dough. Take one ball and roll it like a medium size chapatti. Heat the Non stick Tawa and roast the Methi Paratha from the both sides. Prepare all Methi Parathas using the same procedure. Take a Paratha and insert a tablespoon of the Paneer mixture into it and fold the Paratha. Prepare all rolls using the same procedure.
Heat a non stick tawa and roast the Methi Rolls until they become crispy.
Serve hot with Tomato Sauce or Chutney.