This is a Recipe for making at home sweet and delicious Mithai Shop Style Khoya Vanilla Burfi. This preparation of this Barfi is quite simple, uncomplicated and does not take much time or effort.
The Khoya Vanilla Burfi can also be a part of the annual Diwali Faral Sweets.
The Marathi language version of this Khoya Burfi can be seen here – Khoya Vanilla Barfi
Preparation Time: 15-20 Minutes
Serves: 20-25 Pieces
Ingredients
250 Gram Dried Whole Milk (Khoya/Mawa)
1 Cup Sugar
4 Tablespoon Milk Powder
2 Tablespoon Sugar Powder
¼ Teaspoon Vanilla Essence
1 Teaspoon Ghee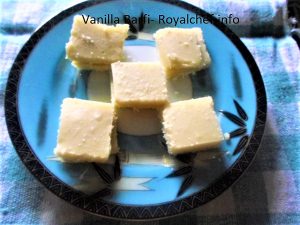 Preparation
In a Kadai add the Khoya and the Sugar and cook for 5 minutes on slow flame.
Remove the Kadai from the flame and keep it aside for 5 minutes for cooling.
Then add the Vanilla Essence, Milk Powder, Sugar Powder and mix it well.
Apply the Ghee over a stainless steel plate and pour the Khoya Mixture and spread it evenly over the plate and keep it aside for 1-2 hours.
Then cut into square sized shapes.