This is a most simple recipe to make at home Sukha Batata Rassa Bhaji or a thick typical Punjabi Style potatoes gravy. This potato gravy is most simple to make and it hardly takes any time or extra effort to prepare, it goes very nicely with parathas, puris, rotis and even rice and is a handy main course dish, when hard pressed for time.
Preparation Time: 20 Minutes
Serves: 5-6 Persons
Ingredients
½ kilograms potatoes
60 grams ghee or butter
4 tablespoons dahi
1 teaspoon green chili powder or 2 green chilies [chopped]
1 clove garlic
½ teaspoon turmeric powder
salt as per taste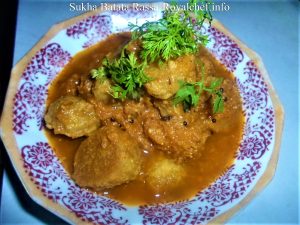 Preparation
Boil the potatoes and then dice them.
Heat the ghee/butter in a kadai and add the dahi, turmeric powder and chilies/chili powder.
Chop the garlic and add it to the spices mixture in the kadai and fry for a minute or so.
Then, add the potatoes and salt and cook for about 5 minutes.