This is a step-by-step Recipe for making at home sweet and delicious Fruit Juice Stall Style Mango Falooda. This Falooda recipe given by me makes the use of Hapus or Alphonso Mangoes to make the Falooda even more tasty.
Preparation Tine: 20 Minutes
Serves: 3 Persons/3 Glasses of Mango Falooda
Ingredients
2 Cups Milk
2 Tablespoon Sugar
2 Big size Alphonso Mangos
2 Tablespoon Sabja Seeds [Sweet basil/Falooda Seeds/Turkmaria Seeds]
2 Tablespoon  Sevai [Rice Vermicelli]
4 Scoops Vanilla Ice Cream
Tutti-Fruity-Cherry for garnishing the Falooda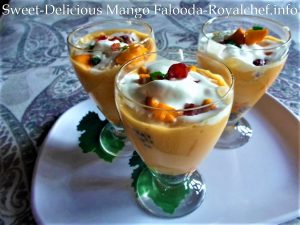 Preparation
Soak the Sabja Seeds into Water for 10-15 minutes.
Boil the Sevai and keep it over a strainer.
Cut one Mango into small sized pieces.
Mix the Milk, Sugar and the pulp of the other Mango and blend it nicely in a blender.
In a big size serving glass first add half-tablespoon of the soaked Sabja Seeds then add half-tablespoon of Sevai then add 4-5 Mango pieces and finally the Mango Juice then again repeat the same procedure, so that you get 2 layers.
Garnish with a scoop of Vanilla Ice Cream-Mango Pieces- Tutti-Fruity.
Prepare the other 2 glasses in the same manner.
Then keep the glasses in the refrigerator for 2-3 hours for chilling.
Serve the Mango Falooda chilled.