This is a Recipe for making at home crispy and spicy quick or Jhatpat Sweet Corn Appe. This typical Maharashtrian Style Appe recipe makes the use of Sweet Corn Niblets and Poha as the main ingredients to make this tasty dish, which makes a great breakfast or tea-time snack.
The Sweet Corn Niblets Appe can also make a useful tiffing-box snack for school going kids.
The Marathi language version of the same Appe recipe can be seen here – Quick Corn Appe
Preparation Time: 30 Minutes
Serves: 4 Persons
Ingredients
2 Cups Sweet Corn Niblets
2 Tablespoon Semolina (Suji)
4 Cups Rice Flakes [Poha]
1 Teaspoon Ginger
1 Teaspoon Garlic
3-4 Green Chilies
1 Teaspoon Lemon Juice
¼ Cup Coriander Leaves (chopped)
Salt as per taste
Oil for frying the Appe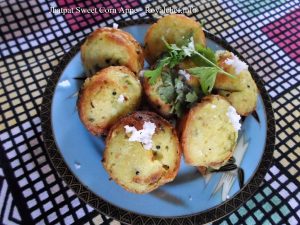 Preparation
Boil the Sweet Corn Niblets and slightly grind them in a mixer.
Grind the Ginger-Garlic-Green Chilies.
Chop the Coriander Leaves.
Mix the grounded Sweet Corn Niblets, Ginger-Garlic-Green Chili Paste, Rice Flakes, Semolina, Coriander Leaves, Salt and Lemon Juice.
Heat the Appe mold and apply the Oil all over inside the mold and add a tablespoon of the Appe mixture into the mold.
Then, again add the Oil from the sides of Aape and cover the mold with a stainless steel plate and fry the Appe for 3-4 minutes on a medium flame.
Remove the plate and turn the Appe over and fry for 2-3 minutes on a medium flame.
Serve hot with Tomato Sauce or Mint Chutney.