This is a recipe for making at home crispy and delicious Restaurant or Dhaba Style Rolled Chicken/Mutton Keema Balls. The Rolled Keema Balls makes a great starters snack for any kind of party, including kitty and cocktail parties. They can also be served as an add-on to the main course meals.
Preparation Time: 60 Minutes
Serves: 5-6 Persons
Ingredients
500 grams Chicken/Mutton Keema
1 medium sized Onion
2 medium sized Potatoes
1 Green Pepper
1 tablespoon Coriander leaves or 1 teaspoon Coriander Seeds Powder
1 teaspoon Cumin Seeds[Jeera]
1 teaspoon Salt
1 teaspoon Garam Masala
100 grams Rice Flour
Vanaspati for frying the Keema Balls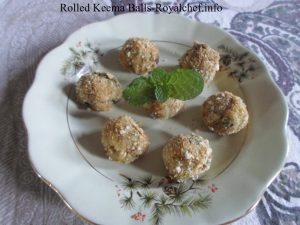 Preparation
Boil the Keema in a little bit of water and keep aside.
Chop the Onions finely.
Then, boil, peel and nicely mash the Potatoes.
Chop the Green Pepper and Coriander leaves.
Put the Keema and all the above ingredients in a mixing bowl and mix nicely.
Roll the Kheema Balls into small sizes as per you wish.
Then, coat the rolled Keema Balls with the Rice Flour and deep-fry them over a low flame.
Serve hot with Tomato Sauce or Chutney.