This is a Recipe for making at home tasty Konkani Style Cashew nuts Pickle or Kaju Che Lonche. This preparation method is very simple and easy and not time consuming. The Cashew-Nuts Pickle is very popular among children.
The Marathi language version of the same pickle recipe can be seen here – Kaju Che Lonche
Preparation Time: 20 Minutes
Serves: 250 Grams
Ingredients
250 Grams Cashew nuts
1 Teaspoon Red Chili Powder
2 Tablespoon Lemon Juice
1 Teaspoon Turmeric Powder
Sugar and Salt as per taste
For the Seasoning
2 Tablespoon Oil
1 Teaspoon Asafoetida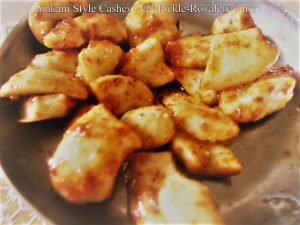 Preparation
First of all cut the Cashew nuts into two-three pieces.
Mix the Cashew nuts, Red Chili Powder, Turmeric Powder, Sugar and Salt
Heat the Oil in a Kadai and add the Asafoetida and pour the Tadka over the Cashew nuts.
Then add the Lemon Juice and mix it well.
Serve with Chapatti or Paratha.
We can store the Cashew nut Pickle for 2-3 days.