This is a Recipe for making at home tasty and delicious authentic Maharashtrian Style Batata or Potato Papad for the day of Fasting. These Upvasache Batata Papad as they are called in Marathi or Aloo Ke Papad in Hindi can be served on Fasting Days are easy to make.
The Marathi language version of the same Papad recipe can be seen here – Upvasache Batata Papad
Preparation Time: 60 Minutes
Serves: 20 Batata Papad
Ingredients
2 Cups Boiled Potatoes (shredded)
2 Cups Sago Atta (Sabudana Flour)
2 Teaspoon Red Chili Powder
2 Teaspoon Cumin Seeds Powder
Salt as per taste
1 Tablespoon Ghee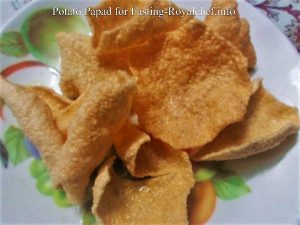 Preparation
Boil 5-6 medium size Potatoes, peal and shred them and keep them aside for cooling.
Mix the Shredded Potatoes, Sabudana Atta, Red Chili Powder, Cumin Seeds Powder, Salt and prepare a thick Dough. Apply a little bit of melted Ghee over the Dough.
Prepare a 20 small lemon size balls from the Dough. Roll each ball over the Sabudana flour into a Puri Sized shape.
After preparing the Papad arrange them over a plastic paper and keep them for drying.
Then deep fry them in Ghee or Oil.