This is a Recipe for making at home hot and spicy Authentic Kolhapuri Lal Mirchicha Thecha. The Lal Mirchi Cha Thecha is a traditional Chutney from Kolhapur prepared using the spicy variety of chilies, which are cultivated in this region of Maharashtra.
This Red Chili Theecha makes a great add-on to any kind of meal and tastes great with Bhakri or Chapati.
The Marathi language of the same Thecha recipe and its preparation method can be seen here – Lal Mirchi Cha Theecha
Preparation Time: 15 Minutes
Serves: 4 Persons
Ingredients
25-30 Red Chilies (dried)
8-10 Garlic Petals
¼ Cup Peanuts
Salt as per taste
For the Tadka
2 Tablespoon Oil
½ Teaspoon Mustard Seeds
¼ Teaspoon Asafoetida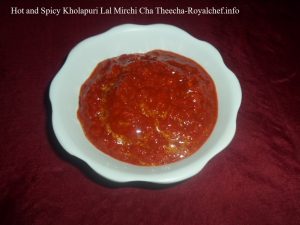 Preparation
Soak the Red dried Chilies in warm Water for 10-15 minutes. Then grind them in the grinder and then add the Garlic, Salt, Peanuts and grind again to make a coarse and thick paste.
Heat the Oil into a Kadai and add the Mustard Seeds, Asafoetida and then add the Tadka to the grounded paste. Mix it well and serve the Kolhapuri Lal Mirchi cha Thecha with Chapatti. Paratha or Bhakri.