This is an easy to follow step-by-step Recipe for making at home healthy Daliya Kheer, The Daliya Kheer is not only sweet and tasty, but also nutritious, especially for the health of growing children.
The Marathi language version of the same Kheer recipe can be seen here – Nutritious Daliya Kheer
Preparation Time: 30 Minutes
Serves: 4 Persons
Ingredients
1 Cup Daliya (broken wheat)
1 Tablespoon Ghee
½ Liter Milk
½ Cup Sugar
¼ Cup Dry Coconut (grated)
¼ Cup Dry Dates Powder
1 Tablespoon Poppy Seeds
¼ Cup Cashew nuts, Almonds, Pistachio (roughly powdered)
1 Teaspoon Cardamom Powder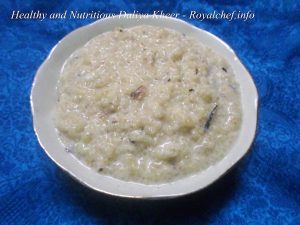 Preparation
Heat the Ghee in a Kadai and then add the Daliya, mix it well and saute for 2-3 minutes on a slow flame.
Slightly roast the grated Dry Coconut, Poppy Seeds, Dry Dates Powder [roast each of them separately] and then keep them aside.
Remove the Daliya from the flame and keep it aside for cooling.
Then keep the Daliya in a stainless steel container and add ½ cup Water.
Insert the container into the pressure cooker for 3 whistles.
In a medium size Kadai pour the cooked Daliya, warm Milk, Sugar and cook for 7-8 minutes on a slow flame.
Then add the roasted Dry Coconut, Poppy Seeds, Dry Dates Powder, Dry Fruits, Cardamom Powder, mix it well and cook for 2-3 minutes.
Serve hot.