This is a simple to follow step-by-step Recipe for making at home Crispy and Healthy Mixed Dal Atta Strips. These crunchy stripes are a handy snack to have in the house, which can be served as part of the breakfast or as a tea-time snack. The Mixed-Dal Stripes can also be a part of the tiffin-boxes of school going children.
The Marathi language version of this snack recipe and its preparation method can be seen here – Nutritious Mixed Dal Stripes
Preparation Time: 45 Minutes
Serves: 5-6 Persons
Ingredients
For the Atta
(slightly roast and then ground)
2 Cups Gram Dal (kana Dal)
2 Cups Green Gram Dal (moong dal)
2 Cups Black Gram Dal (urad dal)
For the Strips
2 Cups Atta (grounded)
2 Tablespoon Ghee (hot)
1 Teaspoon Kasuri Methi
10-12 Curry Leaves
10-12 Mint Leaves
2 Teaspoon Red Chili Powder
2 Teaspoon Cumin-Coriander Seeds Powder
½ Teaspoon Asafoetida
Salt as per taste
Oil for frying the Strips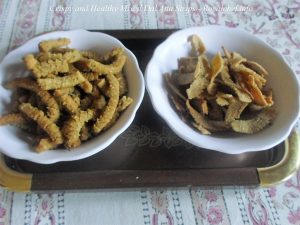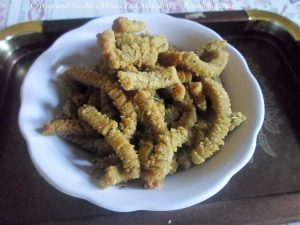 Preparation 
Slightly roast Kasuri Methi Leaves and crush them.
Slightly grind the Curry Leaves and Mint Leaves.
Mix the Atta, Kasuri Methi, crushed Mint and Curry Leaves, Red Chili Powder, Cumin-Coriander Powder, Asafoetida, Salt and hot Ghee, mix it well and add some Water and prepare a thick Dough.
Then divide the Dough into four equal parts.
Heat the Oil in a Kadai.
In a Chakli making mold insert a portion of the Dough and directly put the strips into the hot Oil.
Deep-fry the Strips until they become crispy.
Prepare all Strips as per the procedure given above
While serving the Strips sprinkle Chat Masala and then Serve.