This is a most simple Recipe for making at home Quick or Chatpata Chakli Chaat. This Chaat, which makes the use of Chakli and Murmure as the main ingredients take hardly any time or effort to prepare and can be be a very useful and handy snack to prepare when hard pressed for time.
The Marathi language version of the same Chaat recipe and preparation method can be seen here – Quick Chakli Chaat
Preparation Time: 10 Minutes
Serves: 4 Persons
Ingredients
3 Cups Churmura/Murmura
7-8 Chakli
1 Medium size Onion (chopped)
1 Medium size Tomato
1 Small size Cucumber (chopped)
¼ Cup Coriander (chopped)
1 Teaspoon Chat Masala
1 Medium size Lemon Juice
Salt as per taste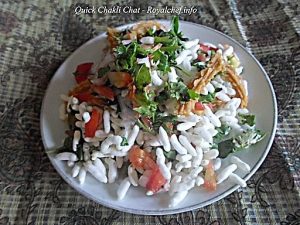 Preparation
Chop the Onion, Tomato, Cucumber, Coriander leaves.
Break the Chakli into 2" pieces.
In a big size bowl mix the chopped Onion, Tomato, Coriander leaves, Chat Masala, Salt and add the Churmura, Chakli pieces, Lemon Juice and mix it well.
Serve in a Plate.
While serving garnish with chopped Onion, Tomato, Coriander Leaves.