This is a step-by-step Recipe for making at home spicy and delicious Restaurant Style Paneer Chingari Tikka Masala, a thick and spicy Panner Masala Gravy. This is a rich and filling main course dish. which goes nicely with Parathas, Rotis, Puris or Rice.
The Marathi language version of this Paneer Gravy recipe and its preparation method can be seen here – Chingari Tikka Gravy
Preparation Time: 30 Minutes
Serves: 4 Persons
Ingredients
250 Gram Paneer
1 Teaspoon Lemon Juice
¼ Cup Coriander Leaves (chopped)
Salt as per taste
For the Masala
2 Big size Onion (shredded)
1 Tablespoon Cashew nuts (paste)
1 Teaspoon Ginger-Garlic Paste
1 Cup Red, Green, Yellow Capsicum
1 Teaspoon Garam Masala
1 Teaspoon Red Chili Powder
¼ Teaspoon Turmeric Powder
For the Tadka
1 Tablespoon Oil
4 Pepper Corn
3 Cloves
2 Bay Leaves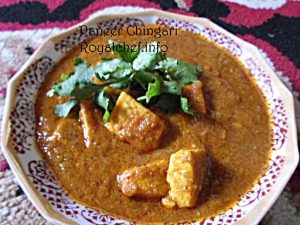 Preparation
Cut the Capsicum in to 1" size pieces.
Cut the Paneer Pieces and shred 2 Pieces of Paneer for the Gravy,
Shred the Onion.
Shallow fry the Paneer pieces slightly.
Heat the Oil in a Kadai and add the Pepper Corn, Cloves, Bay Leaves, Ginger-Garlic Paste, Turmeric Powder and saute for 30 seconds.
Then add the shred Onion, Capsicum and saute for 5 minutes on a slow flame.
Add the Cashew nuts Powder, Red Chili Powder, Garam Masala, Salt, shredded Paneer and saute for a minute.
Then add the Paneer Pieces, ¼ Cup Warm water and cook until the Gravy starts boiling
Garnish with chopped Coriander Leaves, Lemon Juice and serve hot with Paratha or Chapati.