This is a step-by-step Recipe for making at home healthy and nutritious Kaddu Ka Dalcha or Bottle Gourd Dalcha, also called as the Dudhi Bhoplyacha Dalcha in Marathi.
This Dalcha is a filling main course dish, prepared using four different lentils and Bottle Gourd along with a specially prepared Masala as the main ingredients.
The Marathi language version of this Kaddu Dalcha recipe and preparation method can be seen here – Dudhi Dalcha
Preparation Time: 45 Minutes
Serves: 4 Persons
Ingredients
½ Cup Gram Dal (Chana Dal)
½ Cup Tur Dal (Black Gram Dal)
¼ Cup Moong Dal
¼ Cup Masur Dal
2 Cup Bottle Gourd (Dudhi Bhopla)
1 Small Potato
1 Medium size Onion
2 Small Tomatoes
¼ Cup Coriander Leaves (chopped)
1 Tablespoon Ginger-Garlic Paste
2 Teaspoon Red Chili Powder
1 Teaspoon Garam Masala Powder
Salt as per taste
¼ Teaspoon Asafoetida (Hing)
¼ Teaspoon Turmeric Powder
1 Tablespoon Oil
¼ Cup Fenugreek Leaves (Methi leaves)
1 Teaspoon Tamarind Juice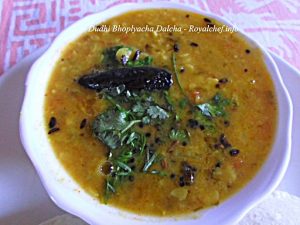 Preparation
Wash the Bottle Gourd and peal and cut it into 1" sized peaces and cook it for 4-5 minutes on a slow flame.
Cut the Potatoes, Tomatoes and Onion in square shaped sizes.
Grind the Ginger-Garlic-Coriander to a paste.
Cook the Chana Dal, Tur Dal, Moong Dal and Masur Dal in a Pressure Cooker.
Heat the Oil in a vessel and add the Asafoetida, Onion and Tomatoes and fry them for 2-3 minutes on a slow flame.
Then add the Grounded Masala, Turmeric Powder and Potatoes and fry for 5 minutes on a slow flame.
After frying the Masala add the Garam Masala, Red Chili Powder, Salt and ½ Cup Water and mix it well and cook it for 4-5 minutes on a slow flame.
Then add all the 4 Cooked Dals, Tamarind, chopped Methi Leaves and cooked Bottle Gourd and mix it well and cook it for 10-12 minutes on a slow flame.
Serve hot with Chapatti or Rice with Cucumber Raita.