This is a step-by-step Recipe for preparing at home crispy and crunchy Ribbon Sev. This Sev is called as the Ribbon Sev due to its shape, which resembles a Ribbon.
The Ribbon Sev can be added as a decorative add-on to your Diwali Faral Plate to make it appear more attractive.
The Marathi language version of the recipe and preparation method of this Sev variation can be seen here- Tasty Ribbon Sev
Preparation Time: 60 Minutes
Serves: 5-6 Persons
Ingredients:
2 Cups Rice Flour
1 ½ Cup Besan (Gram Flour)
2 Teaspoon Red Chili Powder
2 Tablespoon Vanaspati Ghee
½ Teaspoon Soda-by-Carb
¼ Teaspoon Asafoetida
Salt as per taste
Oil for frying the Sev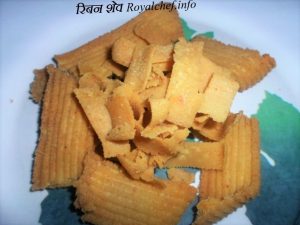 Preparation:
Take a strainer and strain the Rice Flour, Besan, Red Chili Powder, Soda-by-Carb and then mix the hot Ghee, Salt and Asafoetida with the Flour.
Then add the Water to the Flour as per requirement and knead a soft Dough to prepare the Sev
Add the Sev Dough into the Sev making machine, use the concerned Sev Mold for making the Ribbon Sev (which has been shown into the image)
Heat the Oil in a Kadai, and add the Sev directly into the hot Oil, prepare roundish shapes of the Sev.
While adding the Sev into the hot Oil, the flame should be on the higher side and after adding the Sev, the flame should be on the lower side.
Remove from the fire, when the Sev starts appearing crispy and crunchy and keep it on paper so that the excess Oil is drained away.
After the Sev cools down, put it into a Plastic bag and store in an airtight container.