This is a very simple to practice step-by-step Recipe for making at home sweet and delicious Maharashtrian Style Boondi Kheer for the main course or Dessert. This Boondi Kheer has been prepared using the ready made Boondi, which is readily available in any Mithai Shop as the main ingredient.
The Marathi language version of this Kheer recipe and the preparation method can be seen here- Boondi Kheer
Preparation Time: 20 Minutes
Serves: 4 Persons
Ingredients:
1 Cup Boondi
¼ Cup Sugar
3 Cups Milk
1 Table spoon Milk Powder
1 Teaspoon Cardamom Powder [Elaichi Powder]
2-3 Almonds
2-3 Cashew nuts
6-7 Saffron Sticks [Kesar]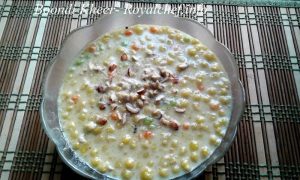 Preparation:
Mix the Sugar, Milk and boil it for 10 minutes on a slow flame and then add the Milk Powder, Cardamom Powder and mix it well.
Then add the Boondi and boil it for 5 minutes on a slow fame.
Pour the Kheer into a Glass Bowl and garnish with Almond, Cashew nuts pieces and keep it the refrigerator for two hours for cooling.
Serve chilled.