This is an authentic Indian Recipe for preparing at home tasty Drumstick Salan, a thick Drumstick Gravy, using fresh Tomato Puree as the main flavoring ingredient.
This is a main course vegetable preparation, you can seen the Marathi language version of this Drumstick dish here- Shevga Salan
Preparation Time: 30 Minutes
Serve: 4 Persons
Ingredients
4 Big Size Drum Sticks
2 Big Size Onion (chopped)
¼ Cup Coriander Leaves (chopped)
1 Teaspoon Ginger-Garlic (roughly grounded)
3 Green Chilies
10 Curry Leaves
1 Teaspoon Red Chili Powder [Lal Mirch Powder]
4 Big Size Tomato (Puree)
Salt as per taste
For the Tadka
1 Teaspoon Ghee
1 Teaspoon Cumin Seeds
10 Curry Leaves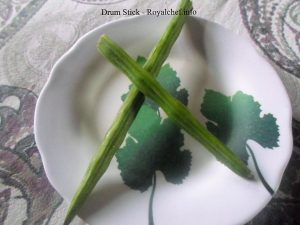 Preparation
Wash and peal the Drum Sticks and cut them into 2" sizes, chop the Onion, boil the Tomatoes and prepare Tomato Puree, slit the Green Chilies.
Heat the Ghee in a Kadai and add the Cumin Seeds, Curry Leaves.
Add the Onion, Ginger-Garlic and saute till the color changes into light brown then add the Red Chili Powder, Salt, Green Chilies, Drum Sticks and a cup of Water.
Mix it well and cover the Kadai with a Stainless Steel Plate, cook for 8-10 minutes on a slow flame.
Remove the Plate and add the Tomato Puree, Coriander, mix it well and cook for 5-7 minutes on a slow flame.
Serve hot with Chapatti or Parathas.
Tip: You can add Prawns or Dried Fish if you are a fish lover.