This is a simple and easy to understand Recipe for making at home Restaurant and Fast-Food Stall Style Tasty Chutney, which is served with Idli, Batata Vada, Medu Vada, Uttapam, Masala Dosa and other popular Indian snacks, including South Indian Snacks.
The Marathi language version of this Chutney recipe can be seen here- Tasty Chutney for Idli Dosa
Preparation Time: 15 Minutes
Serves: 4 Persons
Ingredients
1 Tablespoon Black Gram Dal
½ Tablespoon Peanuts (roasted)
1 Cup Coconut (grated)
4 Garlic Petals
¼ Teaspoon Cumin Seeds
½ Cup Curd (Yogurt)
2 Tablespoon Pandharpuri Dal[Putana Dal or Fried Grams]
3 Green Chilies
2 Tablespoon Coriander Leaves (chopped)
Sugar and Salt as per taste
For the Tadka
1 Tablespoon Oil
1 Teaspoon Mustard Seeds
¼ Teaspoon Asafetida
1 Red Dried Chili
7-8 Curry Leaves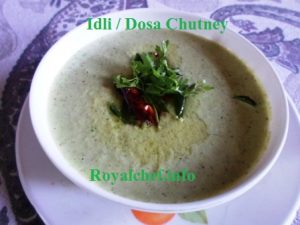 Preparation
Soak the Black Gram Dal in water for about 4-5 hours, roast the Peanuts, grate the Coconut, and chop the Coriander Leaves.
In a Chutney jar, add the grated Coconut, Gram Dal, Peanuts, Pandharpuri Dal, Green Chili, Coriander leaves, Sugar and Salt along with ¼ Cup Water and grind into a coarse paste.
Heat the Oil in kadai and add the Mustard Seeds, Asafetida, Turmeric Powder, Curry Leaves, and Red dried Chili and pour the Tadka over the Chutney.
Then add the Curd and mix it well.
Serve with Idli, Dosa, Pakoras or any snack or fast food dish.