This is a simple and easy to understand Recipe for preparing at home typical Maharashtrian Style Raw Mango Panhe or Kairiche Panhe as it is called in the Marathi language.
The Kairiche Panhe is an extremely refreshing cold drink to quench your thirst especially during the hot summer season.
Kairiche Panhe is not only tasty but it is also healthy and nutritious and does not pose any of the health hazards. which are attributed to the cold drink sodas available in the market.
The Marathi language version of the Kairiche Panhe preparation method can be seen here- Kairiche Panhe
Preparation Time: 20 Minutes
Serves: 6 Glasses
Ingredients
2 Raw Mango (big size Kairi)
¾ Cup Sugar or Jaggery
¼ Teaspoon Cardamom Powder
¼ Teaspoon Saffron
Salt as per taste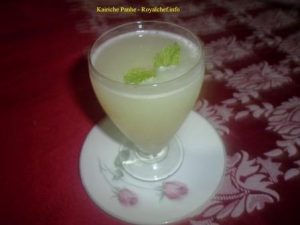 Preparation:
Wash the Raw Mangoes and boil them for 15 minutes or until they soften, then keep them aside for cooling.
Remove the outer skin from the Raw Mangoes and remove and keep the pulp aside.
In a mixer jar put the Raw Mango Pulp, Sugar or Jaggery, Cardamom Powder, Salt and ¼ cup Water and blend for a minute and then pour the mixture into a vessel.
Keep the vessel in the refrigerator for 1-2 hours for cooling.
While serving pour the Chilled Raw Mango Panne into the Glass and garnish with Saffron and Mint leaves.