This is a Recipe for preparing at home the Maharashtrian Specialty Dish Kairichi Dal. This main course chutney makes the use of black gram dal and raw mangoes to prepare this tasty add-on for any kind of meal.
Traditionally the Kari Chi Dal is served to guests during the ritual of Haldi Kumkum during the Chaitra Month along with Kairiche Panhe, which is a sweet juice, like a Sharbat prepared using raw mangoes.
The Marathi language version of the same chutney recipe is published here – Kairichi Dal
Black Gram Dal soaking period: 4 Hours
Preparation Time: 15 Minutes
Serves: 4 Persons
Ingredients
1 Cup Black Gram Dale [Harbara Dal]
½ Cup Raw Mango (Kairi) shredded
3 Green Chilies
Salt and Sugar as per taste
For the Tadka
½ Tablespoon Oil
1 Teaspoon Mustard Seeds
¼ Teaspoon Asafetida
¼ Teaspoon Turmeric Powder
1 Green Chili (chopped)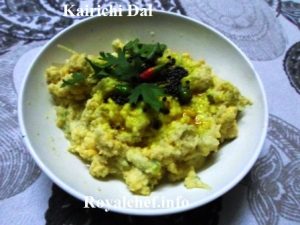 Preparation
Wash the Black Gram Dal and soak it in Water for about 4 hours. After four hours, drain the Water. Then grind the soaked Black Gram Dal coarsely along with the Green Chilies, Salt, and Sugar, then add the shredded Raw Mango to the mixture and mix it well.
Heat the Oil in a kadai, add the Mustard Seeds, Asafetida, and Turmeric Powder and chopped Green Chilies, and pour this seasoning in the grounded Dal mixture.
Mix it well and with Kairi Panhe.