This is a Recipe for preparing at home tasty and delicious Coriander Stuffed Paratha –  Hara Dhania Paratha or Kothimbir Saranacha Paratha as this type of Paratha is called in the Marathi language, which can be seen –  Kothimbir Paratha
The recipe has been given in a step-by-step manner so as to make the preparation of the Coriander Stuffed Paratha as easy and simple as possible.
Coriander Stuffed Paratha Preparation Time: 30 Minutes
Serving: 4 Persons
Ingredients:
For the Covering
1 ½ Cup Wheat Flour
2 Tablespoon Gram Flour (Besan)
¼ Teaspoon Turmeric Powder
½ Teaspoon Red Chili Powder
1 Teaspoon Cumin-Coriander Powder
1 Tablespoon Oil
Salt as per taste
For the Filling:
2 Cups Coriander Leaves (chopped)
1 Tablespoon Sesame Seeds
1 Tablespoon Poppy Seeds
2 Tablespoon Dry Coconut (shredded)
1 Tablespoon Ginger-Garlic-Green Chili Paste
1 Teaspoon Red Chili Powder
½ Teaspoon Turmeric Powder
1 Teaspoon Garam Masala
1 Teaspoon Lemon Juice or Amchur Powder
Salt as per taste
Oil for frying the Paratha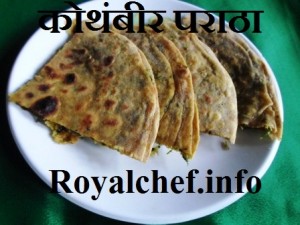 Preparation:
For the Filling:
Wash and chop the Coriander Leaves and spread them over a newspaper to dry for about 15 minutes.
Slightly roast the Sesame Seeds, Poppy Seeds and Dry shredded Coconut.
Mix the chopped Coriander Leaves, Sesame Seeds, Poppy Seeds, Dry Coconut, Ginger-Garlic-Green Chili Paste, Red Chili Powder, Turmeric Powder, Garam Masala, Lemon Juice and Salt.
Then divide the mixture into 4 equal parts.
For the Covering:
Mix the Wheat Flour, Gram Flour, Red Chili Powder, Turmeric Powder, Cumin-Coriander Seeds Powder, Salt, Oil and some Water, prepare Dough, and keep it aside for 10 minutes.
How to Prepare the Coriander Paratha
Then prepare 8 equal balls. Roll one ball like a Chapatti and then spread one portion of the mixture over the Chapatti and then roll another Chapatti and cover the mixture and press the sides and roll the Paratha slightly.
Heat the Tawa and roast the Paratha from both sides by using Oil.
Serve hot with Tomato Sauce or curd.