This is a Recipe for preparing the traditional and authentic Maharashtrian Style Shepu-Shengdana Bhaji. This is a main course vegetable preparation using Shepu, known as Dill leaves in English and Suva/Savaa in Hindi as the main ingredients.
Maharashtrian Style Shepu Shengdana Bhaji Preparation Time: 20 Minutes
Serves: 2 Persons
Ingredients:
One Small Sized Bunch of Shepu
1 Medium size Onion
2 Tablespoon Peanut Powder [Shengdana Pud]
1 Tablespoon Coconut (grated)
Salt as per taste
For the Tadka
1 Tablespoon Oil
1 Teaspoon Mustard Seeds [Mohari]
1 Teaspoon Cumin Seeds [Jeera]
¼ Teaspoon Asafetida [Hing]
6-7 Garlic Petals (mashed)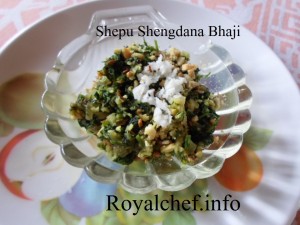 Preparation:
Wash and chop the Shepu Leaves. Roast, peal and powder the Peanuts.
Heat the in a Kadhai and then add the Mustard Seeds, Cumin Seeds, Asafetida, mashed Garlic, chopped Onion, Green Chili and fry for 2-3 minutes and then add the Salt, chopped Shepu Leaves and ½ cup Water, mix it well and cover the kadhai with a plate and cook for 8-10 minutes on a slow flame.
Then add the Peanut powder, Coconut and mix it well. Serve hot with Bhakri or Chapatti.
The Marathi language version of the Shepu Shengdana Bhaji is published in this – Article