This is a Recipe for Bael Fruit or Wood Apple Vadis a unique sweet dish, which has been experimented by me using Bael Fruit pulp. This dish can be taken on the fasting days, especially on the day of the Hindu festival of Maha Shivratri. It has lot of Nutritional value as it is a rich source of carbohydrates, Proteins and Vitamin B and hence extremely good for health.
The Marathi language version of this Wood Apple Vadi can be seen here – Bael Fruit Burfi
Preparation Tme: 45 Minutes
Serves: 25 Pieces
Ingredients
1 Cup Bael Fruit (pulp)
1 Cup Sugar
1 Tea spoon Cardamom Powder
1 Tablespoon grounded Sugar
1 Teaspoon Ghee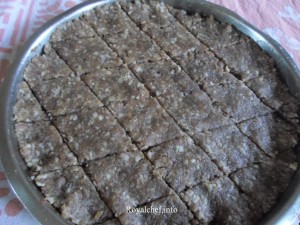 Preparation
First break the Bael Fruit and scoop out the fruit pulp with the help of a spoon then grind the pulp into a fine paste.
Mix the Bael Fruit Pulp, Sugar and cook until the pulp become slightly dry. Then add the Cardamom Powder, grounded Sugar and stir for two-three minutes.
Apply the Ghee over the plate and then pour the mixture into the plate and pat evenly. Cut the Vadis in diamond shapes.