This is a Recipe for preparing at home Spicy Maharashtrian Chicken Korma, prepared in the authentic Maharashtrian Style of cooking.
Ingredients
1 Kg Chicken
10 Blanched Almonds or Cashew nut
1 Tablespoon Poppy Seeds (khus khus)
2 Tablespoon fresh Coconut (grated)
4 Medium Onions
1 Tablespoon Ginger-Garlic Paste
1 Tablespoon Oil
1 Tablespoon Coriander Leaves
1 Teaspoon Mint Leaves
2 Teaspoon Coriander Powder
½ Teaspoon Turmeric Powder
1 Teaspoon Chili Powder
1 Teaspoon Garam Masala
1 Lemon Juice
3 Tablespoon Curd
Salt as per taste
2 ½ Cup Water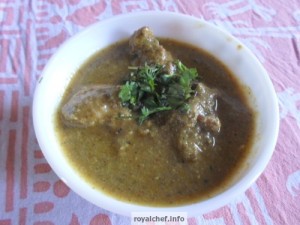 Preparation
Roast the Nuts and Poppy Seeds and put them in a blender. Make Ginger-Garlic Paste with Coriander and Mint Leaves.
Blend Coconut with fine paste. Prepare Onions paste.
Heat the Oil in a Kadhai and add Ginger-Garlic Paste, Coconut and fry for two-three minutes.
Add Onion and fry for two-three minutes. Add roasted nuts and Poppy Seeds paste and fry until Oil Leaves the sides.
Add Chicken and keep it on slow fire for five-then minutes. Add Coriander Powder, Turmeric Powder, Chili Powder, Garam Masala Powder and Lemon Juice fry until Oil separates.
Beat the Curd nicely and then add the Curd and Water. Cook until Chicken is tender.