This is a Recipe for homemade Florida Shake, a combination of the flavor of lemon, orange, pineapple and raspberry. An extremely simple beverage to prepare, once you have purchased the basic juices. All that is needed to take the juices in the measurements, I have given and blend them.
Ingredients
1 Cup Orange Juice
1 Tablespoon Lemon Juice
½ Cup Pineapple Juice
1 Teaspoon Raspberry Syrup
Ice Cubes as needed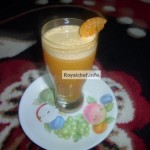 Preparation
Mix the Orange Juice, Lemon Juice, Pineapple Juice, and Raspberry Syrup and mix it nicely in a blender.
Serve Chilled.