This is another simple and easy to understand Recipe for preparing at home authentic Maharashtrian Style Dodkyachi Bhaji, a typical vegetable preparation from Maharashtra.
Maharashtrian Dodkyachi Bhaji-2 Preparation Time: 20 Minutes
Serves: 4 Persons
Ingredients
250 Gram Dodka (Ridge Gourd)
1 Small size Onion (chopped)
2 Green Chilies (slit)
1 Table spoon Gram Dal (Channa Dal soak in water for 2-3 hrs)
1 Table spoon Coconut (grated)
Salt as per taste
For the Tadka
1 Tea spoon Oil
1 Tea spoon Mustard Seeds
1 Tea spoon Cumin Seeds
¼ Tea spoon Asafoetida
¼ Tea spoon Turmeric Powder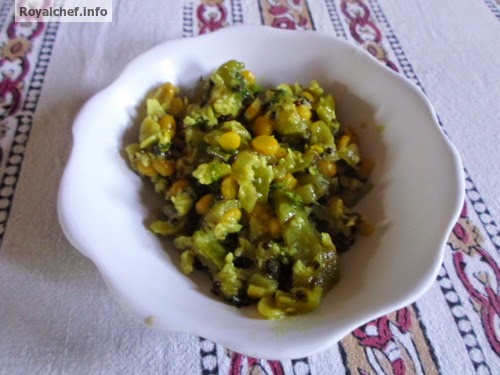 Preparation
Wash and remove the green skin of the Dodka and then cut in medium size pieces.
Heat the Oil in a Kadhai and then add the Mustard Seeds, Cumin Seeds, Asafoetida, Onion, Green Chilies and fry for a minute. Add the Turmeric Powder, Gram Dal, pieces of Dodka, Salt and one table spoon Water. Then cover with a stainless steel plate and put some Water over the plate and then cook for ten-twelve minutes on a slow flame.
Remove the plate and add grated Coconut and mix it well.
Serve hot with a Chapatti.