This is a very simple to implement Recipe for making at home Salted or Khari Champakali for the Diwali festival, a rare and unique Namkeen Snack for the annual Diwali Faral Sweets.
The Marathi language version of the Salted Champakali recipe and preparation method can be seen here – Khari Champakali
Preparation Time: 60 Minutes
Serves: 20 Numbers
Ingredients
 2 Cups Refined Flour (Maida)
2 Tea spoon Pepper Corn (crushed)
1 Tea spoon Aniseed (crushed)
1 Table spoon Oil (hot)
A pinch Baking Powder
1 Tea spoon salt
Oil for frying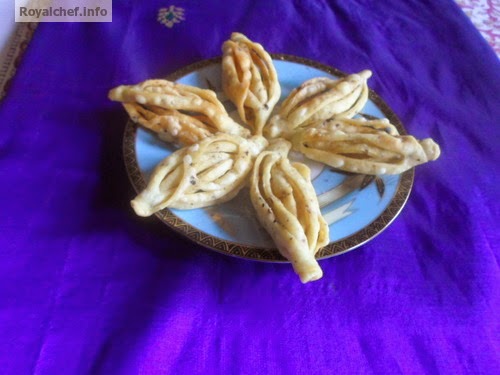 Salted Champakali
Preparation
Mix the Refined Flour, crushed Pepper Corn, Aniseed, hot Oil, Salt and enough Water to prepare a thick Dough and prepare small balls from the Dough. And then roll the small balls in round Puri size shapes and then give six-seven vertical cuts (like strips) in the center of the Puri and then fold the Puri and press the sides to get the desired shape.
Heat the Oil and deep-fry the salted Champakali until color changes into light brown.