This is a Recipe for making at home tasty and Crispy Mushroom Khari at home. This is a delicious snack combining the taste of Khari Biscuit with Mushrooms and Cheese, which can be served as a standalone snack or as a starters snack for any kind of party.
Preparation Time: 30 Minutes
Serves: 4 Persons
Ingredients
100 Grams Mushroom (chopped)
12 Khari Biscuit
3 Table spoon Cheese (shredded)
1 ½ Tea spoon Black Pepper
1 Green Chili (chopped)
1 Table spoon Coriander
1 Table spoon Butter
1 Table spoon Cream
Salt as per taste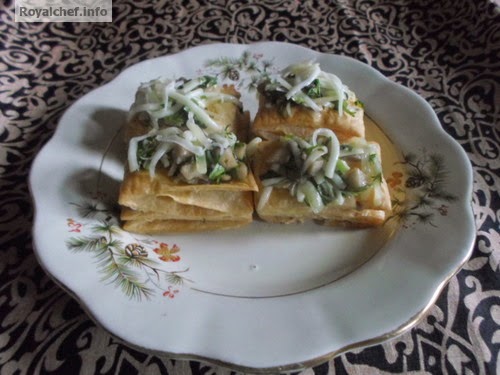 Crispy Mushrooms Khari Biscuit
Preparation
Clean and wash the Mushrooms and then chop them.
Heat the Butter in a frying pan and add the chopped Mushrooms, Green Chili, Salt and fry for two-three minutes on a slow flame. Then add Coriander, Black Pepper, Cream, and Cheese and mix it well.
Heat the frying pan and arrange the Kari over the pan and spread one tea spoon mixture on each of  the Khari and garnish with shredded Cheese then cover the pan with a lid and bake the Khari for two minutes on a slow flame.
Serve hot.