This is a Recipe for preparing Shahi Kobi Chi Bhaji, prepared in a typical Maharashtrian Style of cooking. In preparing this dish, I have avoided using Turmeric.
Ingredient
 2 Cups Green Cabbage (finely cut)
8-10 Cashew Nuts (cut into two pieces)
Salt and Sugar as per taste
1 Table spoon Coriander
1 Table spoon Coconut (grated)
For the Tadka
 ½ Table spoon Oil
1 Tea spoon Mustard Seeds
1 Tea spoon Cumin Seeds
2 Green Chilies (chopped)
5-6 Curry Leaves (chopped)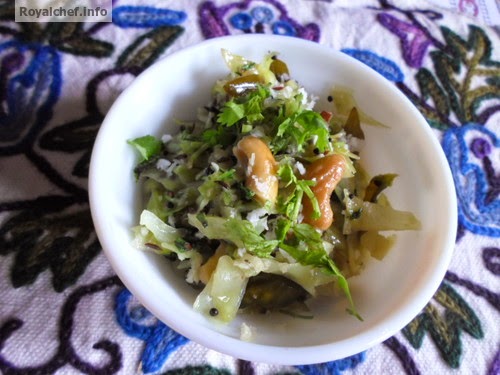 Preparation
Cut and wash the Cabbage. Heat the Oil in a Kadhai and add the Mustard Seeds, Cumin Seeds, and Green Chilies, Curry leaves, Cashew Nuts and fry for half a minute.  Add the Cabbage, mix it well and cover with a inverted stain less steel plate by adding some Water over the plate and cook for five- seven minutes on a slow flame.
Remove the plate, add the Coriander, Coconut, Salt, and Sugar, mix it well, and then cook for two minutes on a slow flame.
Serve hot with Chapatti.