This is a Recipe for preparing delicious Coconut-Rice Kheer. This Kheer dish Known in the Marathi language as Naral Tandlachi Kheer and in Hindi as Nariyal Chawal Ki Kheer is a great add on to the main course, especially on festive occasions and parties, tastes great with Puri.
The preparation method given by me is simple and easy to follow and does take up much time or effort to prepare this Coconut Rice Kheer.
Ingredients
 2 Table spoon Rice (Basmati rice)
2 Table spoon Coconut (grated)
½ Liter Milk
¼ Cup Sugar
1 Table spoon Ghee
1 Tea spoon Cardamom Powder
1 Table spoon Almond-Cashew nut (crushed)
4-5 Sticks Saffron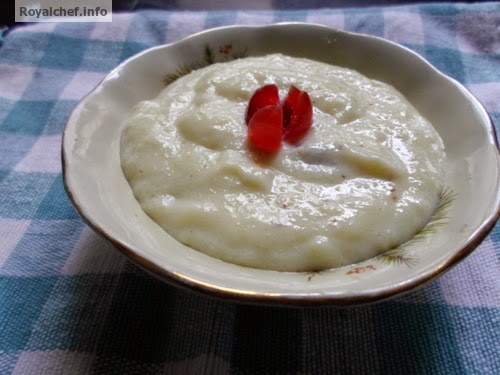 Preparation
Wash the Rice and keep it aside for fifteen minutes and then grind the rice to make a thick powder.
Grind the grated Coconut. Heat the Ghee in a Kadhai and add grounded Rice powder and fry till color changes into light brown and then add grounded Coconut and fry for two three minutes on a slow flame.
Add half cup Water and cook for two-three minutes on a slow flame and add boiled Milk and cook for five-seven minutes and then add Sugar Cardamom powder, Dry Fruits, Saffron and cook for five minutes on a slow fame.
Serve hot with Puri.